Keeler
Details:
Painting Date
30th of November -0001
Description:
When the 1872 Lone Pine earthquake rendered the pier in nearby Swansea inaccessible by uplifting the shoreline, a new pier was constructed to the south at a community named Hawley. In 1880 a new mill was constructed at Hawley by the Owens Lake Mining and Milling Company for processing ore from the Cerro Gordo Mines in the mountains to the east. A town was laid out by the company agent Julius M. Keeler, for whom the town of Hawley was later renamed.
The steamship "Bessie Brady" brought ore from Keeler across the lake to the town of Cartago, however in 1882 the Bessie Brady was destroyed by fire. There was a 300-foot wharf at Keeler, and the steamship route cut days off the time a freight wagon would have taken to circle the lake. She carried 700 ingots at a time in a three-hour crossing.[4] The Carson and Colorado Railroad constructed a narrow gauge railway to Keeler in 1883. The success of the Cerro Gordo mines caused Keeler to boom until silver prices plummeted in the late 1800s.
A second boom of zinc mining in the early 1900s brought new life to the town and a tramway was built to bring the ore from Cerro Gordo to Keeler. There were small surges in the mining of silver, lead, zinc, and limestone; however, by the 1950s all mining had ceased. Train service was stopped in 1960 and the tracks were removed in 1961. Water exports from the Owens Valley to the City of Los Angeles in the 1920s led the Owens Lake to eventually dry up, causing alkali dust storms to blow through Keeler, driving many residents away. Dust remediation efforts in the early 21st century reduced this problem, but few residents remain.
A post office operated at Keeler from 1883 to 1898[3] and is still operating today.
http://www.owensvalleyhistory.com/keeler/page71.html

Keeler Hotel circa 1925
[Picture from "From this Mountain – Cerro Gordo"
by Robert C. Likes and Glenn R. Day (1975)]


Cerro Gordo smelter vat ruins located at the town of Keeler.


[Russ Leadabrand photo]


The following images and text were taken from the April 1989 issue of "The Album" furnished to me courtesy of Rich McCutchan.

Keeler crouches on the eastern shore of Owens Lake, with the brooding Inyo Range as a backdrop, before water disappeared from the lake.

[photo: Eastern California Museum collection]

Locally built Keeler pool, August 9, 1929. People gathered from miles around to admire the area's bathing beauties.

[photo: Eastern California Museum collection]


Until it burned to the ground, Hotel Keeler, operated by Mr. and Mrs. George Mates, provided for travelers at the southern terminus of the former Carson and Colorado Railroad, as well as those in the stage coaches bound for Mojave or nearby mining towns.


[photo: Eastern California Museum collection]


Keeler"Doc" Irving Wooden only medical doctor in many hundreds of miles in Inyo County. Lillian Hilderman was his nurse in Independence before she married Mr. Hilderman.


[photo: Eastern California Museum collection]


Steam locomotive pauses while crew thinks about thawing out in Keeler's Desert Club. Snow and icicles were not uncommon in this winter of 1933.


[photo: Eastern California Museum collection]

Lillian Larson Hilderman's Keeler [pdf]
by Henry Raub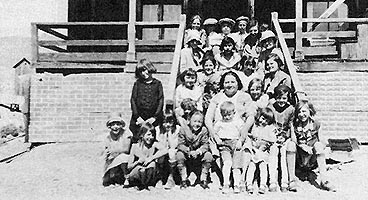 House owned by the Cerro Gordo Mine, May 1929. The old fashioned "public convenience outhouse" appears just behind the building on the left.

Paul Cederburg of Yreka, California shared that he was born in this house.

[photo: Eastern California Museum collection]


Photo Cards courtesy of Rich McCutchan


Keeler in 1912


Keeler Carson & Colorado Railroad Depot in 1969.


Keeler, CA. (date unknown)

Keeler Carson & Colorado Railroad Depot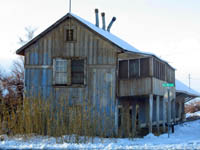 Keeler Carson & Colorado RR Depot in 2005.



Gilbert Marquez of Victorville, CA writes:
Ray,
I was born in NSP (National Soda Products) in 1927. This town was built by the Soda company for the workers and their families. The town was built on the edge of the Owens dry lake's eastern side. My father worked thee from 1923 until 1937 when we left for Los Angeles. My older brother, my sister, and I attended school in Keeler. I have a group photo taken in 1934.
Gilbert Marquez
September 2009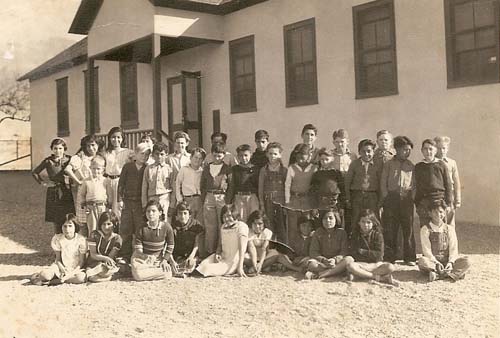 Keeler class of 1934.
Back Row (L to R): ?,?,?,?,?,?,?,Gasper Manuz,?,?,?
Middle Row (L to R): ?,Kenneth Lee Sainz,?,?,?,?,Prince Lyle Smith Jr.,?,Gilbert Marquez,?,?,Raymond Marquez
Front Row (L to R): ?,?,Anne Bolonese,Josephine Marquez,?,?,?,?,?,?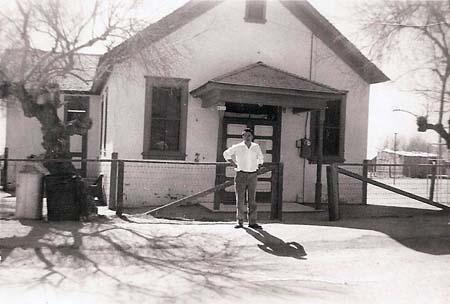 Gilbert Marquez in front of the Keeler school (house owned by the Cerro Gordo Mine) in 1959.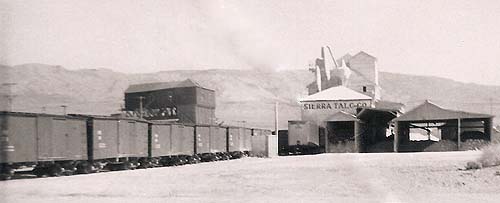 Keeler Sierra Talc Company loading station in 1959.

(photo courtesy of Gilbert Marquez)

Keeler Carson and Colorado Train Depot in 1969.

(photo courtesy of Gilbert Marquez)

Keeler National Soda Products operation in 1959.

(photo courtesy of Gilbert Marquez)

Ray,
My name is Marshall Fuller I was born in Keeler in 1956 I also went to school in the old school house and also remember the train running and the Desert Club was owned by Agnes Hinton as kids there we would go to the pool and play around the talc mill and play around the train yard there was a gas station a general store a fire station post office and family homes the picture you have of the old train depot has the wrong date on it it should be around 1969 because the train stopped running in 1964.
I wish i had some pictures, but that was so long ago. I remember the tram house that ran up to the Morning Star mine on Cerro Gordo. If you go up and watch the canyons to the south you might still see one of the tram cars still hanging on a cable. The boy Mrs Hilderman was talking about was my brother Garry, not Gary, and the dogs with the quils in them was our dogs and the Osborn's dog Jake. I still have arrowheads I found as a kid at NSP and also my brother Garry was born in NSP. I was born in Keeler. I remember the train running. It was called the Slim Princess. The talc mill was in full swing and it was great growing up there we was the first house below the gas station
Marshall Fuller
June 2015


Photo Cards courtesy of Rich McCutchan

Carson & Colorado RR – Keeler, CA
Larger Image


Photos courtesy of UC Riverside Library Archives



Borax works at Keeler – November 1945
(Cal State Library photo)